If you have plans to travel to Iceland than you might have noticed it is an expensive travel destination. An Iceland travel can be challenging if you haven't done proper preparations. A cup of coffee with a piece of pie may can cost 15 to 20 euros per person. Or a hotel room may cost you 200 euros. However, it is possible to visit Iceland with a limited budget. This blog is for you if you are traveling low-budget, don't need luxury and don't want to spend too much money. I share with you my best tips how you can save money in Iceland based on our personal experience. This will help you travel on a budget in Iceland. After reading this blog you know exactly where en how you can save money in Iceland!
1. Make a plan of your budget
If you travel to Iceland it is really important to plan your trip thoroughly. This is to avoid unexpected surprises once you are in Iceland and hopefully don't end up broke with no more savings:). Once you made a plan of how much your vacation approximately will cost, this will give you a better understanding how much you need to save and if it is affordable in this stage of your life. Or if you already saved an amount of money if you are willing to spend it on Iceland.
We made a plan before but we were not quite prepared about certain expenses like gasoline, eating out and grocery items. In order to get an idea how much the costs are in Iceland you can check this website Numbeo for prices in Iceland in restaurants, supermarkets, public transport and gasoline. You can also filter on city like the expenses only in Reykjavik. If you go to the library you can find travel guides of Iceland with tips and advice about your trip to Iceland as well.
What does a budget planning for your Iceland travel look like?
A good planning of your budget starts with all major and predictable costs. This means expenses for:
transportation: rental car (insurance and fuel), ferries and buses;
meals (based on the website Numbeo you get the idea of the costs);
camping gear rental costs;
sightseeing admission fees;
souvenirs, shopping and snacks;
coronatest: check the corona rules for Iceland before you go. We paid almost 40 euros per person for a test in our own country .
Make sure to be a bit flexible with your expenses and save some money for unexpected expenses. If you don't have any room for a little extra budget than you need to think if you are going to have fun on your trip if your budget is too tight.
How can I still travel to Iceland even if I don't have the money?
Traveling to Iceland can be challenging if you are on a budget. If you have investigated the estimated prices of your trip and taken the budget tips into consideration and you don't think you can afford it now? No worries, there are different solutions to every problem.
Firstly, you can decide how much money you need to save and start saving money on a weekly or a monthly base. Check out for yourself how long it is going to take until you reach your saving goal.
Secondly, check out if a shorter trip to Iceland will cut a lot of expenses. It can really make a huge difference if you are going 1 week instead of 2 weeks. Or if you are planning to go 6 days you could check if 3 days in the area of the capital Reykjavik are within the budget?
Thirdly, check if you can earn extra money to use for your Iceland travel. Be creative, for example, start de clutter in your house and get rid of stuff you never use. Sell your stuff online via several marketplaces like Ebay and earn money! Do you expect a holiday payment from your employer? Or a promotion? Or maybe you get a tax return? Do you have a room you almost never use? Maybe you can rent it out via Airbnb for a while. The list is endless of things you can do to earn a bit extra money with your skills.
2. Iceland travel Off season
Mostly all tourists will come during the summer months. This is also the most expensive time to travel to Iceland. During summer, especially from June until the end of August the prices of flights, hotels, car rentals and activities are almost always much higher during summer. This is one of the reasons we decided to travel to Iceland in winter. Another reason was that we love winter time and the magical landscape of Iceland in winter. If it is possible for you to travel to Iceland Off season, it is a good option since the prices are much lower.
Another benefit to travel to Iceland Off season is that you will avoid the most tourists at the famous highlights of Iceland. However, the weather during summer is of course the best. Summer time is also the best and safest time for hiking, driving and camping and see wildlife. A disadvantage of Iceland travel Off season can be that not all the attractions and activities are open. But this blog is about saving money while traveling to Iceland so I will cover our experience of Iceland travel during winter (Off season).
3. Compare flights and book the cheapest flight
You can save a lot of money by comparing flight prices and book a flight months before you want to go. Traveling during weekdays can also be cheaper. I always use Skyscanner to compare and book the cheapest flights. You can go to the website Skyscanner here. One of the cheapest airlines to Iceland are Icelandair and Play. These airlines are popular as stopovers if people are traveling between Europe and North America and vice versa. Iceland is a good option for a stop over since you can have a break in Iceland for a few days and enjoying some highlights of Iceland. This way, you basically only have to buy one return airline ticket while discovering two destinations.
It depends on where you live in the world to find the cheapest airline fares. You can check on both Icelandair and Play but it is actually the smartest to compare as many flights as possible on different dates via Skyscanner. It is possible to score a cheap ticket to Iceland that starts with 60 euros. These are often simple tickets where you can only take one piece of hand luggage, the price becomes a bit more expensive if you want a more comfortable seat or want to take more luggage. So it is a good thing to check the baggage guidelines if you want to book a flight. A good period to book cheap flight tickets to Iceland is for example from March to July, but also outside that period you can have a chance on low priced flights.
Tip: with this luggage hack you don't pay extra for your luggage! How? take a pillow case with you. You may always bring a pillow with you for free in the airplane. If you have a little pile with extra clothing that doesn't fit in your suitcase? Put it in your pillow case and take it with you for FREE! You also have some extra comfort during your flight:).
Important! Please be advised that there is a difference between Reykjavik airport where the domestic flights of Iceland are operating and Keflavik International Airport where all international flights arrive and departure. In your case you choose Keflavik Airport if you want to travel to Iceland.
4. Iceland travel where to stay
The next step is to check where you want to stay during your holiday. I would highly recommend to sort out your lodging options since it can be very stressful to find a place to stay on a short notice. It depends on how much you want to spend for lodging and how much time you want to spend checking your options and comparing prices. In the capital Reykjavik you have the most options from simple to a luxury hotel. But in Reykjavik it is almost always more expensive than in other areas of Iceland. You find more bed and breakfasts and guesthouses in the less populated places in Iceland. I will share with you my own experience and all the alternatives. Since hotels were not amongst the cheapest options I will not discuss this in this blog.
Hostels
Hostels are very popular since it is an affordable way for a nice and modest but not a very luxury stay. Mostly there is a shared kitchen with all the facilities to cook your own meal. You can check before if you share a bathroom with others or that you have your own bathroom. There are hostels with both dorms and separate rooms for 2 or more persons. I personally don't like sleeping in a dorm since I get awake very easily by every noise and snoring, so I always book a separate room for 2 persons.
Since I don't mind to share a bathroom with others, I always book a separate room with shared bathroom. A lot of hostels use a self-service check-in. This means you receive one day before your stay an access code to enter the hostel and to get your key. If you are allergic to woolen or down and feather blankets you can mention it as a comment on the reservation. You need to check if they serve breakfast as well or if you need to make your own breakfast in the kitchen. Below you see a list with my favorite hostel options in Iceland.
Hostelworld– this is a website I would recommend if you want to look for hostels not only in Iceland but all around the world. Except for camping this is one of the cheapest options. We also booked on this website for a stay in Reykjavik when we arrived.
Hostel.is– this is a platform with hostels in both Reykjavik and all around Iceland. If you are with a group they offer also hostels where you can stay with a group.
Hotel Vatnsholt– This is a renovated farm which is made into a guesthouse with little cozy rooms for 2 persons with your own bathroom and toilet included. This is an ideal location if you are doing the Golden Circle route and want to explore more of the south area of Iceland. It was a surprise for us that the rooms were amongst the cheapest of all other hostels that we booked. There is no breakfast included but you can book a nice breakfast in addition. You get free coffee and tea in the restaurant and they have coffee and tea to go cups.
If you check directly on their website you see the more expensive prices of hotel rooms. However, they offer a lot of smaller rooms for good prices. We paid 60 euro per night for 2 persons. When we were there in February there was a snow storm one day and they offered an extra stay immediately so we would not worry because we couldn't make it to the other hostel in Vik.
Food tip: in hostels you can find a lot of times a 'left over' section of food that people bought on their trip but couldn't take with them on their trip back home. So if you booked a hostel, before you buy food check at the hostel if you can use food from the 'left over' section. We saw several times that people left rice, pasta, pasta sauce, fresh fruit and cereal behind. This can already save you a lot of extra costs!
Booking.com
Booking.com– I used this platform a lot to find hostels. On Booking.com you find all kind of lodging options. Besides hotel accommodation you can find guesthouses, holiday homes and hostels as well. Just use the filter function at 'accommodation'. How we found the best prices with Booking.com I will share with you in the 5th paragraph.
Airbnb
This can also be a good option for you to check. If you book an Airbnb accommodation you can choose between a lot of different holiday homes, rooms and apartments for all sort of budgets. Because we weren't quite sure where we would be 1 or 2 days during our Iceland travel we booked a room last minute via Airbnb when we already were in Iceland . We were in the area of Skaftafell and needed a place to stay in that area. I checked on Airbnb and found Dalshofdi Guesthouse.
It is on this location where we have seen the Northern Lights / Aurora. I must say this was also one of my favorite low budget accommodations.I wrote a blog about when, were and how to photograph the Northern Lights with your smartphone with low aurora activity. The rooms are stylish and modern and the shared bathroom is very clean. A friend of mine who has also been to Iceland told me she had an Airbnb in Reykjavik once for only 30 euros a night so this could be an affordable option as well.
VRBO
VRBO is a popular platform where you can find holiday homes and places to stay as well. If you filter on price for example below 100 euros, you see a lot of rooms you can rent from private owners. I don't have any experiences myself with this platform but it is worth to check the prices.
Farm holiday
If you would like to stay on a renovated farm during your stay then Icelandic Farm Holidays is a nice option for you. They offer several farms where you can spend the night. This is not the cheapest option but I mention it just in case you want something else besides hostels or camping. Most farm animals you see are especially Icelandic horses. There are also a lot of Icelandic horse tours to find for tourists if you are interested to spend time with these beautiful animals.
Couchsurfing
Have you ever heard of couchsurfing? Couchsurfing is a service where you can stay at a host for free who is registered at the Couchsurfing platform. This is not an option for control freaks but for the one who is seeking adventure and the unknown it is worth a try. There are hosts in Iceland as well who are willing to let you stay at their place for a night. You need to make a profile about yourself on the Couchsurf online platform first. Once this is done you fill out out the place you want to visit in Iceland and check if there are any hosts located in that area.
You can read other reviews about their experience with the hosts to minimize the risks that you end up with someone that you don't feel comfortable with. The place to stay at your hosts' home can vary from a real couch to a room entirely for yourself. I haven't experienced it myself but for what I have heard from friends of mine who went couchsurfing, it was a good experience.
Camping
Staying on a camping site is next to couch surfing and wild camping one of the least expensive way to overnight in Iceland. During wintertime this is not an option since a lot of campsites are closed in winter. Therefore, it is a good idea to check the campsites' schedule to be sure they are not closed. It is not necessary to book in advance. Several campsites do not take bookings in advance.
You might also check where you can find all campsites before you start your journey. In that way you know you have a place to stay for the night. Not knowing where to sleep at night can be very stressful so better safe than sorry. It can be hard to find all campsites in Iceland online but if you are renting a camper van in Iceland you can ask for a list with campsites and campsite information. I found at least these campsite locations here and here. Another option is to ask at a Visitor Center for all the campsite options in that area.
Buy a Camping Card
If you want to use camping sites a lot during your travel to Iceland you can check out the Camping Card. With this Card you can stay on approximately 42 camping sites for up to 4 days maximum. It costs around 167 euros and you can buy it online or buy it in Iceland at a camper van and car rental agency or tourist information office. It is for maximum 2 adults plus up to 4 children under the age of 16. The card remains valid until 28 days. So if you want to visit camping sites mostly of your time this Card will save you money.
Wild camping
If you want to spend as little as possible on accommodation when you are in Iceland, wild camping in Iceland is the best choice. You can bring some camping gear with you from your hometown if it fits in your suitcase or you can rent it in Iceland. Wild camping in Iceland is only recommended during summer time. The weather in winter is very cold and you need to put on good quality clothing. Wild camping is only allowed in some places and under very strict conditions, if you do not adhere to this then you can risk a fine. However, wild camping is next to couch surfing the cheapest option during your Iceland trip. On camping sites you often find BBQ and cooking areas, making cooking a bit easier as well.
According the Law you need to sleep in a designated campsite even though you sleep in a camper van, RV, tent or trailer. They make an exception if you have explicit permission of the landowner to overnight on their property. If you have plans to do the real thing like camping in a tent far away from main road and building, you may still camp for free for 1 night at a time in Iceland. This can also be a solution if you have plans to go for a hiking tour that will take several days. You can check out the list with restrictions here.
Mountain huts
If you want to plan a hiking tour for a few days than you can book a mountain hut. How cool is that? You find the prices here.
5. Investigate what you want to see traveling in Iceland
If you are planning your lodging options your first step is to investigate what exactly you want to see and do in Iceland. My proven strategy is to get a local guide of Iceland like the Lonely Planet or whatever is available in your country. I went to the library and got one that I can use for a few weeks so it only costed me a few cents. There I check the highlights of Iceland and write down what I would like to see.
Secondly, I would join Iceland Facebook groups and ask for advice regarding the highlights. Usually, people like to share their experiences and best tips. There were a few ladies in the group who already had written blogs about their experiences in Iceland. Thanks to this information we could orientate better where we would stay for the nights. Now, we knew what we wanted to see it was time to check if there were hostels in the area nearby.
In our case we wanted to see these highlights in the south of Iceland:
drive the Golden Circle route
How to find the cheapest prices traveling in Iceland online?
Check Google maps
When traveling to Iceland you want of course find the best prices for your accommodation in hostels and guesthouses. How did I do it? I went to Google maps and printed out the map of Iceland. There, I would put marks on all highlights we wanted to see. Secondly, I went back to Google maps again and checked the map of Iceland again. In the search bar on top I would write 'hostels'. Google gave all results of hostels in Iceland.
I would compare our marked highlights on the printed map with the hostels in that area that Google suggested. If you already clicked on one hostel you see that Google gives you new suggestions of hostels in the area. And as a surprise there were a lot cheap hostels to choose from. If you click on one hostel with a good price you see immediately the best prices of several booking websites. In our case there were a lot of good prices if you booked via Booking.com.
Below you see our 'beautiful' marked not exactly blog and Instagram worthy map of Iceland 🙂 But I only wanted to show you this to get the idea:).
Below you see all hostels with current prices in Iceland if I write down 'hostel' in Google maps. If you click on one of the prices in the map you see the hostel of your choice. There you can see the price of the hostel as well and my experience is that if you want to book the room, Booking.com is the cheapest most of the time. Please see the print screen of Hotel Vatnsholt where you see the prices (60 euro p. night).
6. Save money traveling in Iceland by booking in advance
If you book in advance for a hostel or Airbnb this can really save you a lot of money. Because the prices are lower and you have more options to choose from. If you book last minute in summer time the prices can be insanely high compare to bookings you do months before. On Booking.com for example you can book your accommodations and cancel it without extra costs. You can check the booking until a certain date you are allowed to cancel the booking. In that way you know you have a place to stay but you have the freedom to change it in the meantime if your plans have changed.
7. Explore your Iceland travel options
If you travel to Iceland it depends on the time of the year and how many days you are traveling, how you are going to travel through Iceland. You can check out your options below:
Rent a car
In Iceland you can easily rent a car. This is not the cheapest option. However, the advantage is that it gives you a lot of freedom to make your own plan. If you take your time to compare car prices, There are several providers of rental cars in Iceland. We went to Iceland in winter (February) by airplane. Because of the cold weather conditions we wanted to rent a car. We had a good experience with this platform Discover Cars. It got us the cheapest deal with full insurance.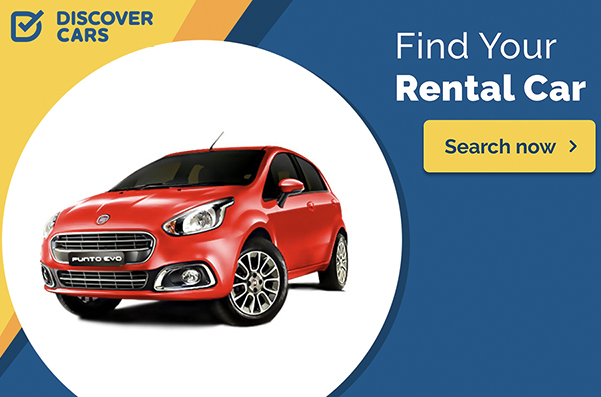 We booked online approximately 5 weeks before we went to Iceland. It is best to book online in advance (cheaper) and if you do this online it is mostly cheaper. I have heard from a lot of other people that they have good experience with Sunny Cars. I don't think this is the cheapest provider but I heard the customer service and handling of insurance is very well handled by them.
Insurance
This is a very important one. Sometimes, when booking a rental car, you may find that you need to take out all kinds of extra insurance when you pick up the car, these are all unforeseen extra costs. I highly recommend to book full coverage in addition. Why? Because the Basic Insurance (CDW) that is obligated by Law, doesn't cover damage like windscreen cracks, wind, water, sand, ice and scratches. If you drive in Iceland this damage is common and to be expected given the extreme weather conditions and gravel roads.
If your coverage is only Basic (CDW) and you face one type of damage I discussed earlier, the labor and costs to replace car parts is very expensive and can cost you hundreds to thousands of euros extra. if you only go for the Basic Insurance, you also have the issue regarding 'own risk'. This means if you had a car accident and the amount of your 'own risk' aka 'high deductible' is between for example 1000-2500 euros, you still need to pay this amount yourself. You can check at the car rental if they can decrease the 'own risk' or 'deductible' amount to 0 euros for the Basic and (optional) Full insurance if you pay a little extra.
We also got 'unlimited mileage' in our insurance package. We didn't know exactly how much we would drive exactly and didn't want to be surprised by unexpected costs if we reached the limit of mileage. This is all a personal consideration so just choose what suits your needs.
Creditcard
The car rental provider in Iceland will ask you to pay with your credit card. Be prepared that you need to place a high deposit amount into their account temporarily. In our case we got a rental car via Discover Cars. We already paid the rental amount online weeks before. However, when picking-up the rental car we needed to put a high deposit amount of 2.700 euros into their account. So make sure the amount on your credit card can go this high. Of course, we received the full amount back on the credit card after we handed over the car with no extra damage. A lot of gas stations have self-service where you need a credit card that works wit a PIN set up.
Make pictures of the car
To avoid issues afterwards, it is best to walk around the car once you picked it up at the rental provider. Make pictures of the entire car. More importantly, make pictures of all scratches, bumps, marks etc. you can find. In that way you can prove to the rental company this damage was already there and was not caused by you. Normally, the rental provider will do the same before you leave with the car.
Iceland 4×4
If you travel in winter renting a 4×4 car is in our experience a must. Why? Because the main roads can be full of ice and snow even though they do their best to keep the roads clean. We traveled in February and saw a lot of people having issues with their car stuck in the snow (on the roads) and even helped a few people who were stuck to get out. Most of them didn't have 4×4 wheel drive and the slippery and icy roads can make driving very challenging. Without this 4×4 rental car we would have been stuck several times.
Especially during winter time you don't want to get stuck on these roads where it can be very cold and windy. Waiting for help can take a bit and sitting in the cold is not the best scenario. In summer you don't need a 4×4 for the main roads. If you go off-road during summer it is recommended to rent a 4×4 to avoid getting stuck on gravel roads or rivers.
Rental car costs
The rental car costs can vary tremendously. When I started comparing prices there were rental car companies who asked 600-800 euros for only one week. So it pays-off to do your homework in advance. Via Discover Cars we got our selves a Dacia Duster 4×4. For 7 days we paid 250 euros with full coverage of insurance. This was in February so the costs may be a bit higher during summer time. Furthermore, a full tank costs around 90 euros! by the time I am writing this blog, but you can drive a long way with it. How much you need to refuel depends of course on the number of kilometers you drive. It also depends if you drive gasoline or diesel. The fuel prices in Iceland are extremely high and even though in the Netherlands we consider fuel prices to be high, in Iceland it was even higher.
Save money on fuel with this website
I received this tip from a local. If you go to gasvaktin.is you can check the cheapest fuel price in your area in Iceland. Not all gas stations have the same price. It can be rewarding to check the prices of the gas stations before. If you find the cheapest gas station in your area check if you can fill empty jerrycans with fuel to save money. You might check if the gas stations use discount cards as well. In that way you can save a few % on fuel or discount at the restaurant. Sometimes they have coupons for free filter coffee as well.
Refuel you car regularly traveling in Iceland
If you make a road trip where it is to be expected not to find gas stations everywhere, make sure you refuel the car often. Our strategy was to check on Google Maps where all gas stations were located on our trip. If we expected to not find a gas station for a long time we would refuel the car at all gas stations we could find making sure we had a full tank.
Go carpooling and save money
If you want to save even more on your fuel and rental costs, taking hitchhikers and travelers with you could be an option for you. It is not uncommon to see hitchhikers in Iceland. You can charge a fee or ask them to pay a compensation for the fuel. A second option is to check out the carpooling website Samferda.net. On this website you can register your ride and others will see which route you are going to take. You can fill out the costs for them if they want to join you.
Calculate how many days you need the rental car
You can save money by renting the car only on the days you are going for a road trip. If you are planning to stay in Reykjavik for one or 2 days you can maybe explore other options like walking, biking or public transport. If you planned a guided tour than you might not need a rental car for that day.
Check the travel and road conditions of Iceland every day
Since the weather in Iceland can be unpredictable and change quickly, you better check the travel conditions every day. It will keep you save and the risk of damage and extra costs to your car will be less by avoiding bad weather. It is common that you face blocked roads in winter due to bad weather and can take hours to days until they open the road again. Since we traveled to Iceland in February we had bad weather conditions and even had a snow storm the entire day. We were stuck at the hostel we were staying for a day.
I would highly recommend to listen to the weather recommendations. If you ignore it and just start driving the roads even though there is a warning to stay home, the insurance will not cover anything if you get stuck somewhere. Or if you need help it can take a lot of time to get assistance since these companies are very busy keeping the roads clean and helping others.
Here you can find 2 websites we used to check the travel and road conditions in Iceland:
road.is– here you can find all road conditions and if certain roads are blocked due to the bad weather.
Safetravel.is-the colors on the map will tell you the condition of the road. You can also apply for weather warnings on your cell phone.
Public transport traveling in Iceland
The public transport is very good in Iceland. It is relatively cheap compared to taxis or a rental car. You can book your bus ticket through the website Re.is or pay the bus ticket in the bus with cash or using the website straeto.is. You can also download the straeto app on your phone if this is more handy for you. If you are in Reykjavik and bought a Reykjavik City Card you don't need to pay for the bus tickets. When you are in the North of Iceland , the city Akureyri offers free city buses for tourists.
The public transport schedule you find here. Keep in mind that the regular buses mostly cover Reykjavik and the surrounding area. So if you want to travel with a regular bus to the highlights of Iceland the bus stops will not be near the tourist stops. The solution is to buy a Buss passport. These (hop-on hop-off) buses do run most in the summer and much less in the winter, so keep this in mind when planning your trip.
Iceland travel by boat
If you drive to Denmark from a place in Europe, you can take the Smyril Line ferry to Iceland from there. The ferry runs between Hirtshals in Denmark and Seydisfjordur in Iceland. If you travel this way you can take your own car with you to Iceland and save on the cost of a plane ticket. Of course, you will be traveling longer (easily 2 full days at sea, so about 48 hours and that does not include the drive to Denmark), but it can save on the price because you do not have to rent a car and do not have to buy a plane ticket. This also allows you to take camping gear more easily and you may not have to pay for ho(s)tels in Iceland either.
Iceland travel with a group
To save money in Iceland you can explore the option to travel with a group. This can be family members, friends or other like-minded travelers. If you rent a car you can split the costs. Or if you rent an apartment or book as a group in a hostel you can split costs as well. Sometimes it looks expensive to get on a group bus tour. However, if you calculate all costs like transportation, accommodation, sightseeing, breakfasts it can be cheaper or the same than plan it all yourself.
Camping
I mentioned before the possibility to camp. Your transportation can be a rental car, public transport or a camper van.
Hitchhiking while traveling Iceland
The cheapest form of transportation is hitchhiking. If you travel in Iceland I would not recommend this for your entire trip. The distance between one point to another can take very long if you can't find anyone to drive you and there is not always a safe place to stand near the road. But this is of course a personal choice so it is up to you with whatever you feel comfortable with.
8. Avoid paid activities during your Iceland travel
There are many highlights and sights in Iceland that you can visit for free. The popular Glacier Walks and Glacier Tours run quickly to over 100 euros, while sometimes with your own car and a short hike you can get close to glaciers in Iceland. Things like hiking, checking out an Iceland volcano, bird watching, biking or swimming in nature is free. If you are a hot spring lover and don't want to pay much you should avoid the popular Blue Lagoon. The price can be around 80 euros per person. In stead find yourself a free hot spring in nature like in Reykjadalur and visit the The Hot Spring River .
Or you go to Rhunalaug Hotspring. This is a beautiful almost magical place to go to! We were stuck one day in the area of Selfoss and we went to the local swimming pool with hot whirlpools and a sauna for 10 euros per person.
A lot of waterfalls, beaches, geysers and lava fields are free to enter as well. If you are in Reykjavik you can do a 'free' walking tour where you can pay the guide whatever amount you want. If you travel in Iceland during winter you can go Northern Light 'hunting'. Sometimes hotels offer free access to their hot tubs and spa, swimming pool or free bike rental. If that is the case it might be worth to pay a bit extra for the hotel. In Reykjavik and Akureyri a lot of events or festivals have free entrance. They have even free museum days so it might be worth to check it out.
9. Buy food at the supermarket
During our Iceland travel we bought almost all food at the supermarket. We cooked our meals we bought at the supermarket at the hostels and Airbnb where we stayed. I recommend these supermarkets: Bonus, Kronan and Netto. Look out for the budget brands in the supermarket like the Euroshopper at Bonus or Coop at the Netto. It is smart to buy food for several days the first day you are in Iceland once you find a budget supermarket. The Iceland currency is Icelandic Krone. It is best to pay with your creditcard like EURO/ Mastercard or Visa. If you pay with your creditcard in the supermarket it is the cheapest to choose the option 'pay in Icelandic currency' in stead of choosing your own currency. If you choose your own currency on the payment machine (ATM) the bank charge more exchange rate.
For breakfast we bought cereal, fruit and yogurt. As lunch we ate sandwiches and some sweets. Our dinner plans varied from sandwiches to pasta with a red sauce. We wanted to eat traditional lamb soup at a restaurant once but because it costed more than 20 euros per person we decided to buy the soup at the supermarket for way less. Soup is mostly the less expensive meal on the menu in a restaurant.
Tip: you can check if the restaurants offer free (unlimited) refill of soup with some bread. In that case it can be rewarding to go out and eat soup at a restaurant.
Tip: what to do if you don't have a fridge for your food in winter? At one hostel we didn't have a fridge so we left our food in the car during the night since it was winter time and very cold outside.
Cheap fast food during your Iceland travel
We also discovered the best hotdogs of Iceland at Selfoss. It is called Pulsuvagninn. This drive-in fast food restaurant is very popular amongst the locals. And we know why! They have amazing Icelandic hotdogs at a fair and cheap price. I believe you get more hotdogs elsewhere but our experience with this drive-in restaurant was amazing.
A second option is believe it or not, eating at the restaurant at the Icelandic IKEA near Reykjavik. Compare to other restaurants the prices at IKEA are cheap. But remember that the prices are still higher than you are used to. The children's meals are cheap so if you don't have a big appetite this could be an option for an adult to eat as well;).
10. Drink tap water and limit Alcohol during your Iceland travel
If you drink tap water and limit alcohol you can save a lot of money. The water quality is good (avoid hot water) and you can bring a reusable bottle with you. Because we traveled during winter we got hot water from a hot water cooker at the hostel for tea or coffee.
Some hostels gave us free coffee to go in the morning so that was a bonus. You can refill your bottle of water in sinks and water fountains. The alcohol is very expensive and the highest of the world. The cheapest place to buy alcohol is at a duty free shop at the airport. If you are going out, seek for happy hours. Prices can be 50% cheaper and you get often 2 for 1 deals. Better avoid driving a car after you drank alcohol because the fines are very high if you get arrested with a (low) alcohol percentage in your blood.
What did we spend traveling to Iceland on a budget?
To give you an idea of our costs traveling to Iceland during winter, I want to share our expenses for 7 days during winter in February. Due to the cold weather conditions we stayed at hostels and guesthouses. We also rented a car at Discover Cars to have the freedom to make our own plan. Because we booked in advance and in winter time we could choose from enough relative cheap lodging options. We only visited the south of Iceland due to blocked roads in winter and limited time. Here are the costs:
Airline tickets: 175 euros per person (return) via Skyscanner;
Rental car: 250 euros with full insurance and 4×4 Diesel for 7 days via Discover Cars;
Full tank: 94 euros. At time of writing the price was 1,88 euros per L. 1,88x50L tank=94 euros;
Corona tests: 40 euros per person. Some corona test locations have discount coupons or codes so you get discount on the test. You can google if this is the case in your country. A negative antigen test was obligated to take before we went to Iceland. As the rules changes so quickly it is best to inform about current rules in your country.
Hostel costs between 50 euros to 80 euros for 2 persons. Cheapest lodgings was Guesthouse Pavi in Reykjavik (50 euros). Don't expect any luxury or modern room. Guesthouse Vatnsholt was the second cheapest option (very nice and costed 60 euros per night). Most expensive hostel was Puffin Hostel in Vik (80 euros).
Food in the supermarket: 35 euros per day. This includes breakfast and dinner;
Coffee and tea: thanks to coupons in a magazine (were provided at the car rental company) you get free filter coffee at the gas station N1. We had our own little thermos with us so we filled it with hot water everyday at the hostel when were leaving. Some hostels had a good coffee machine with coffee to go cups. So besides the hot water in our thermos we started our day activity with a nice coffee to go:).
Fast food: the hotdogs were 5 euros per person in Selfoss.